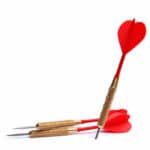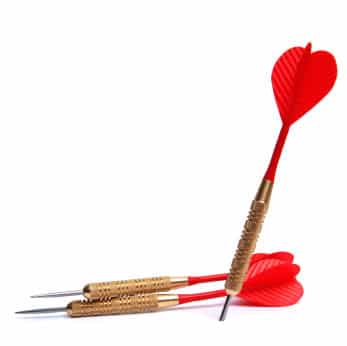 The game of darts isn't exactly the most popular sport in the world, but it goes well with betting because it's easy to follow and it appeals to a wide cross section of people.
Major darts events are sometimes televised on national TV, so the game definitely has a loyal fan base. Online betting sites are well aware of this fact and most large sites offer darts betting.
The best darts betting websites are actually large websites that offer all different types of sports betting. These sites also happen to offer darts betting and do an exceptional job in covering darts. One thing you'll have to keep in mind as a darts fan is that you won't find as much coverage of darts as you will other sports. Betting websites tend to devote their attention to the sports that generate the most interest and greatest amount of betting action.
However, that does not mean you'll have a hard time finding quality darts betting websites. The sites that we recommend on this page all offer real money darts betting year-round. During major darts tournaments, you will find a variety of bets that are open to all customers. In between tournaments, you'll be able to place futures bets on any upcoming tournaments.
Choosing Top Darts Betting Sites
We found it fairly easy to choose the tops darts betting websites for a few reasons. One thing that made our job easy is that not all betting websites offer darts betting in the first place. There are quite a few online bookmakers out there that skip out on darts betting altogether. These betting sites simply don't have the time or resources to devote to darts betting.
Out of the websites that do offer darts betting, we picked the very best by looking at each betting site in close detail. The most important thing we looked at is the security of each betting website. Security is the most important thing to us because when you are betting with real money on the internet, you have little recourse if your betting site suddenly goes out of business. For that reason alone, we only stick with long term betting sites that have a large customer base and a positive track record.
From there, the next thing we look at is the variety of darts betting options at each site. We understand that darts isn't the most popular sport in the world, but we do try to find websites that offer darts bets all year long. This keeps things interesting while also providing serious bettors with the opportunity to spot advantageous lines.
The overall quality of each betting site also plays a role in our ranking decision. Some betting websites just do a better job in general at keeping their customers happy. The best darts betting websites offer their customers unique signup rewards, generous loyalty programs and a simple betting interface. These are all small factors, but when taken together, they make a big difference in the final experience.
Major Darts Betting Events
The sport of darts has quite a few major betting events that provide betting opportunities for fans of the sport. At the best betting websites, there are always at least a few darts bets that are open for action. Enough darts tournaments and championships take place every year that there is always something new that fans can bet on.
Here are a few examples of darts betting events and leagues:
BDO World Championship
PDC World Championship
WDF World Cup
Premier League

UK Open
Las Vegas Desert Classic
World Matchplay
World Grand Prix
Types Of Darts Bets
Darts betting is a relatively small sport, so most betting sites limited themselves to offering two different types of darts bets. These wagers are simple to place and are resolved quickly at the top betting sites. If you'd like to learn more about how darts betting works, the following explanations will help you get started in no time.
Outright Winner Bets
The outright winner bet is the most common type of bet in darts. This is a wager in which the betting site lists the names of all the people who will be competing in some future darts tournament. You can then place a wager on any of the people that you think have a chance to win the tournament. If your wager is correct, you will receive a payout.
The payouts for outright winner bets vary based on the strength of each participant. Wagers on Phil Taylor, for example, do not offer very high payouts because he has dominated the darts scene for so long. Other darts players can pay out as high as 200 to 1 depending on their perceived skill (or lack thereof).
Match Bets
Match bets are offered at some betting sites when there are player vs. player darts competitions. These types of bets work in the same basic manner as other sports bets in which there are two opponents or two teams attempting to win the match. The betting site offers odds on each darts participant and your goal is to pick the winner of the match.